SCGS-01 with 2" scintillation probe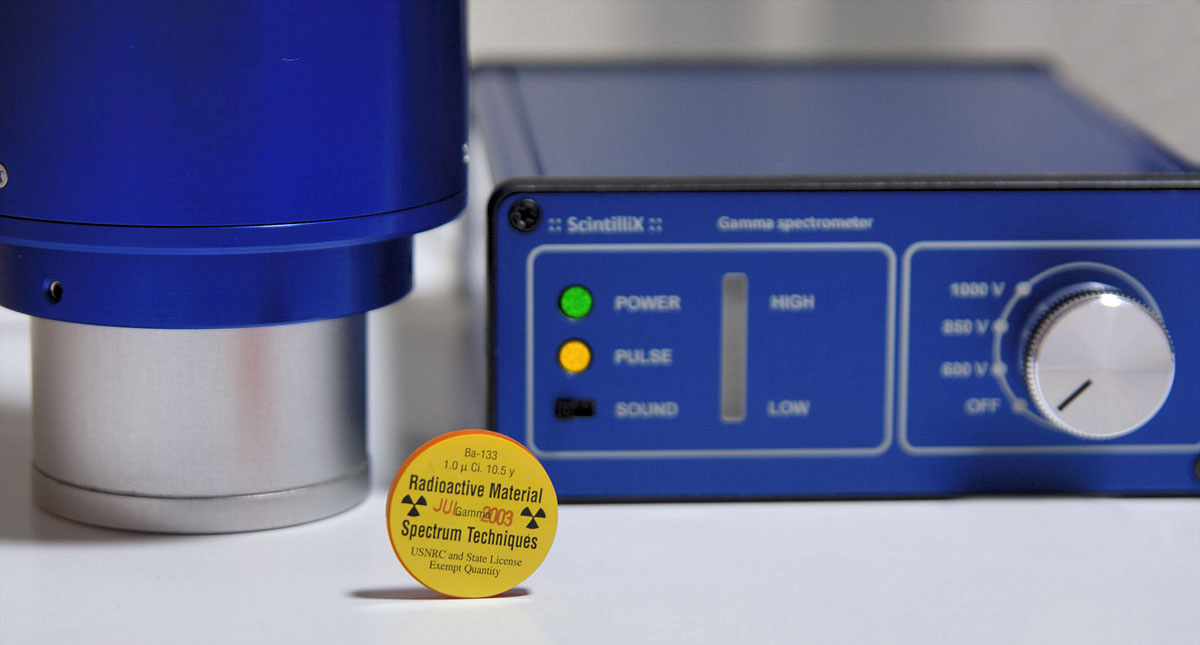 Scintillix gamma spectrometry system SCGS-01 is intended for use in low level gamma counting, thus is suitable for educational purposes in school and university laboratories, in comunity based laboratories and for gamma spectrometry enthusiasts.
Scintillix system consists of 2" or 2.5" scintillation probe containing thallium dopped sodium iodide NaI(Tl) inorganic scintillator optically coupled to 9-stage high PHR photomultiplier tube (PMT) operated up to 1 kV. Scintillation probe contains resistive divider for PMT with 58 MOhm total resistivity and charge sensitive amplifier (CSA) followed with pulse shaper (PS). Probe is connected via cable to the control unit. Control unit can be connected to a PC by means of USB cable or to other device (e.g. oscilloscope) via BNC connector on the rear panel.
Technical parameters:
Probe:
NaI(Tl) inorganic scintillator
High PHR 9-stage photomultiplier tube
Resolution FWHM @ 662 keV <8.0%
Control and power supply unit:
Stabilised and filtered high voltage bias source
Positive bias up to 1kV
Output bias voltage presets 600 - 850 - 1000 V
Inputs:
DC power supply for control unit
Signal input
Outputs:
DC power suply for scintilaltion probe
HV bias for scintillation probe
USB 2.0 type B for computer connection
Pulse output for connection to other instruments (oscilloscope etc.)
Other:
LED indicator of power and pulse detection
LED bar indicator of radiation intensity
Small reproductor for audible pulse detection
Power supply 12 - 14 VDC
Power consumption < 200 mA
Compatible with Theremino and PRA freeware